Dj Lady Cosmo
Foto by Claudio Santori e Matteo Bernabucci - SUITE - 29 novembre 2002

Archivio foto 2002 - Indicizzazione nei Motori di Ricerca
The Sound of Suite, venerdì 29 novembre 2002, special guest lady cosmo from NYC

Vogue GQ

pierandrea lady-cosmo

beauty staff

257-5752 IMG

Valentina e Valentina e...

playboy

martina francesca

call

stefano v

janet mohamed

lady cosmo 03

lady cosmo 02

257-5749 IMG

Christian e Giovanni


Vale & Vale

Ragazze Vodafone Staff


Valentina Valentina e l'amica di un ragazzo cretino :)

257-5750 IMG

Valentina x2 + ...

Elonora Janet Mohamed

martina raffaella

lavinia fabio

ste napoli

stefano gianluca

mangiamolo vivo

cl@ e Luis Radio

gianluca lavinia

fabiana

eleonora janet mohamed

eleonora janet

chicchi 02

chicchi

anvedi

belinda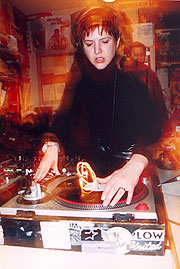 Here comes another lady DJ to entertain us. Ohm Private will be opened to the general public who are up to listening to the sweet sounds of New York's Cosmo next Saturday.
Having been a DJ for over half her life, she first introduced herself to the club circuit in 1991 with her special blend of deep house, garage, disco and soul. She continued playing two weekly radio shows that featured her own live mixes as well as mixes by guests such as Little Louie Vega. She then started playing with David Mancuso at his legendary after-hours party at The Loft.
Cosmo has also played gigs in New York and throughout America with Danny Tenaglia, Wamdue Kids, Abacus and Kevin Yost. International gigs have included spots in Japan, Italy, France, Spain, Sweden, Iceland, Finland, Norway, Greece, Slovenia and the UK. In 1998 she released her first compilation entitled "New York Afterhours: A Later Shade of Deep." That lead to two of her own productions, "Ch'i" and "Light Fantastic" before she moved on to London.
She is currently a regular host for London X-Press on 104.9 XFM. Cosmo also co-hosts a fortnightly Internet radio show called Bitches Brew on www.gaialive.co.uk.
Le serata più divertenti solo con RomaDiscoNight: fotografi del divertimento!